ГЕЛЛА-ТЕЛЕКОМ. Каталог телефонов.
EnGenius SN-900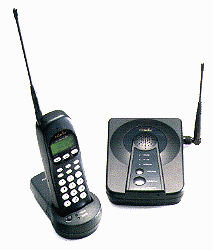 900MHz Ultra Long Range Cordless Phone and Two Way Radio
The First Long Range Cordless Phone and Two Way Radio!

• LONG RANGE Up to Five Miles (8km) in open terrain for both Telephone and Radio
• DIGITAL TWO WAY RADIO
• Full duplex, totally private and independent of the base unit
• Expandle System

• Grows with your business, up to 4 base units and 36 handsets
• Digital Security
• Frequency hopping technology ensures privacy
• Digital Full Duplex Two Way Radio. Full duplex capability lets you talk and listen at the same time. Each handset provides private conversations with no chatter.
• Call Transfer. Call transfer is now a standard feature with the EnGenius.
• Call Manager. Select each handset to ring with every call or only ring for transferred intercom calls.
• Digital Security Hopping. Using military designed technology the phone hops to different frequencies more than 200 times per second, ensuring complete privacy.
• Fast Battery Charging. Your talk time never expires with the 90 minute spare battery recharge. Get up to 4 hours of talk time with each battery. Spare battery pack included.
• Auto Power Management. The phone uses only the power needed to maintain a good signal, extending battery life. Each battery pack is good for up to 36 hours of standby time.
• Caller ID With Call Waiting. Screen phone calls and keep track of the last 30 people who called you, by name, number and time. Note, Caller ID and Call Waiting are services that must be purchased from your local telephone service provider.
• Received Signal Strength Indicator. Provides an audible and visual warning if you are about to leave the range of the EnGenius base unit.
• Three Line, Illuminated LCD. Two lines with twelve characters each, plus one line for icons, provide an easy to use user interface, even in low light conditions.
• Vibrating Mode and Ring Volume Options. Vibration mode will not disturb others around you. Ringer volume can be set to one of three levels to match the noise level of your environment.
Greater Range and Mobility. The EnGenius SN 900 Ultra has a range in excess of 5.5miles and an in building penetration in excess of 11 floors. The product was tested by Wyle Laboratories Inc, an independent testing laboratory, in an open field environment. Obstacles, terrain, temperature, humidity, and antenna can have a limiting effect on range.




Each base unit can support up to 9 handsets. Each hand set can be registered up to 4 base units in different locations. Additional handsets are available separately.






примерная цена:

EnGenius SN-900 Ultra-1 Basic Set (1 Base, 1 Phone, 1 Charger, 1 Leather Pouch) - $290
EnGenius SN-900 Ultra-2 Package (1 Base, 2 phones, 2 Chargers, 2 Leather Pouches) - $440
EnGenius SN-900 Ultra-HS Portable Handset, Battery Pack and Leather Case *Charging Cradle Sold Seperately - $140
EnGenius SN-900 Ultra-CH External Battery Charging Cradle w/Spare Battery Charger - $25
EnGenius SN-900 Ultra-EA Outdoor Antenna and Cable Highly Recomended for Urban Setting - $85
Engenius SN-900 Ultra-BA Ni-Cd Battery Pack - $19
EnGenius SN-900 Ultra-LP Leather Pouch - $19

---
АОН   |||  Телефон   |||  Каталог   |||  Главная страница   |||  Карта сайта

E-mail:

Пишем письма