ГЕЛЛА-ТЕЛЕКОМ. Каталог телефонов
Samsung SP-R6000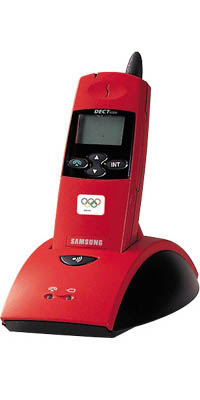 Unique flip type handset
5 lines illuminated alpha-numeric display
45 names & numbers phonebook
Convenient operation through menu navigation system
Environmentally friendly Ni-MH battery
Redialing for the last 5 different numbers dialed
Paging handset from base station

"The handset is the same size as the popular Nokia 6110 mobile phone, which is easier to carry around the home or the office, and the base station is also petite looking no different than a desktop charger. Also the forty-five phonebook memories for names and numbers and full text display for menu system will make you free from a telephone book and the instruction book in hand."

45 Phonebook (names and numbers)
45 Turbo-dialing (Speed-dialing)
5 Last numbers redialing
Call barring for up to 4 numbers
Registered recall
Music on holds/mute Useful Features
Free Intercom between handsets
Paging handset from base station
Keypad lock
Belt clip
Handset ringer lamp
Power On/Off
Environmentally-friendly Ni-MH battery


Alpha-numeric illuminated display (3 lines & 36 characters)
Multi languages menu display
Greeting edition
Easy-to-use through menu navigation system
3 levels for voice volume
Call time display On/Off
Battery status display
6 ring types
Standard DECT / GAP
Dimensions 129 x 48 x 28 mm
Weight (handset) 150g
Display Alpha-numeric LCD (3 line & 36 characters + 2 lines for Icons)
Operation Time Standby time: 55 hrs / Talk time: 10 hrs
Multi-link Handset : up to 4
Base station : up to 4
Battery Ni-MH (3 cells package type)
Color Dark Gray / Navy Blue / Red


---
АОН   |||  Телефон   |||  Каталог   |||  Главная страница   |||  Карта сайта

E-mail:

Пишем письма