ГЕЛЛА-ТЕЛЕКОМ. Каталог телефонов.
Uniden EXL8945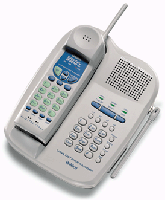 900 MHz Long Distance Manager Digital Cordless Phone

• Long Distance Manager* - Potential savings on every call regardless of call length or time of day.
• Backlit Keypad - Offers you added visibility for dialing at night or in low light.
• Dual Keypad - The EXL8945 features a dual keypad that offers you the convenience of having two seperate phones in one. Dial your call from either the handset or the base.
• 20 Number Memory Dialing - This allows you to easily program 20 numbers for quick dialing.
• Headset Compatible - The EXL8945 allows for an optional headset to be connected for convenient hands-free operation.

*Long distance service provided by CallManage, Inc. You must register to use the Long Distance Manager™ feature. Registration is a toll-free call.




примерная цена - $80
---
АОН   |||  Телефон   |||  Каталог   |||  Главная страница   |||  Карта сайта

E-mail:

Пишем письма