ГЕЛЛА-ТЕЛЕКОМ. Каталог телефонов
Samsung SP-R5250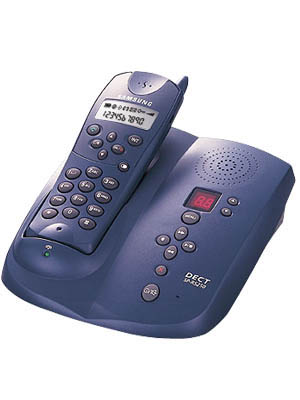 The same features as SP-R5200 but plus built-in answering machine:
Digital memory with 50 minutes recording time
Hands-free Speakerphone in Base Station
Conversation recording feature
User Selectable 6-Language Voice guide
(English/French/German/Italian
/Norwegian/Spanish)
Morning call alarm & Memo recording
Time & date stamping
Call screening On/Off
Remote message control

"This DECT phone is built in a digital answering machine with 50 minutes recording time, while most competing models can record only under 15 minutes worth of messages at a time. A speakerphone is built in the base station, enabling the user to receive calls without a handset. Conversations can be recorded, so you could remain the conversation messages in the digital memory. The voice guide related to recorded messages is supported in 6 different languages, and this phone comes with a novel morning wakeup call alarm."

Caller ID display
Up to 10 missed calls memory (10 Call Log)
10 Memory dialing & 10 turbo (speed) -dialing
10 last numbers redialing
Call barring for up to 4 numbers Tone & Display
Morning call alarm function
2 lines & 12 digits large numeric display
Easy-to-use through menu navigation system
5 levels for voice volume
Call time display On/Off
Battery status display
6 ring types


Free Intercom between handsets
Paging handset from base station
Keypad lock
Belt clip
Handset ringer lamp
Power On/Off
Standard-sized rechargeable battery (Ni-MH, Ni-Cd)


50 minutes Recording Time
Full-duplex hands-free Speakerphone in base station - Conversations recording
User selectable 6 languages voice prompt (English/French/German/Italian/Norwegian/Spanish)
Incoming messages controlled through base station and handset
Built-in back-up battery for power failure
Time & Date stamping
Memo recording
Call screening On/Off
Remote message control
Standard DECT / GAP
Dimension (handset) 165 x 57 x 27 mm
Weight (handset) 159g
Display Numeric LCD (1 line & 12 digits + 1 line for Icons)
Operation Time Standby time 240 hrs (Ni-MH), 120 hrs (Ni-Cd)
Talk tme 24 hrs (Ni-MH), 12 hrs (Ni-Cd)
Multi-link Handset : up to 6
Base station : up to 4
Battery Ni-MH / Ni-Cd (2 cells type 'AA') Color Dark Gray / Dark Blue / White


---
АОН   |||  Телефон   |||  Каталог   |||  Главная страница   |||  Карта сайта

E-mail:

Пишем письма