ГЕЛЛА-ТЕЛЕКОМ. Каталог телефонов.
Sony SPPS9101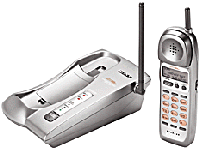 • High Power DIGITAL SPREAD SPECTRUM FOR SUPERIOR RANGE AND INTERFERENCE REDUCTION -900 MHz band starts with low interference because it's less crowded than conventional 43-49MHz band; Digital Spread Spectrum technology provides up to about 100 times more output than other 900MHz systems; so you can carry your cordless phone further-and still carry on a conversation
• JOG DIALTM for one-finger access to directory dialing numbers and Caller ID memories; simply push the button and jog up and down to find the entry you're looking for; push the button again to dial the number! 100 Number Directory allows you to store up to 100 names and numbers for easy access
• EzfitTM Ear Piece gives you a better coupling to your ear for better sound and increased comfort
• DIGITAL privacy uses higher technology to keep your private conversations private; sophisticated digital speech encoding between handset and base unit
• DIGITAL SOUND QUALITY uses the technology behind the Compact Disc to achieve amazing voice accuracy; sounds less like older cordless phones, more like a corded phone
• CALLER ID with CALL WAITING (20 Memories) allows you to screen the phone number and name of an incoming second call while you talk on the first (requires combination of Caller ID and Call Waiting services)
• Dual Battery Capability base unit has the built-in battery charger. You can charge an optional battery (BP-T31) in the base unit
• 3-Line Backlit LCD Display on Handset for clear presentation of caller ID information, number dialed and more. It's even backlit for easy viewing
• LIGHTED KEYPAD allows for easier dialing in the dark up to 6-Hour Talk Time & 10-Day Standby allows longer conversation and longer intervals between charging batteries
• Auto Channel Hopping automatically scans all available channels and selects the clearest one for your call; during your call, if any interference is encountered, automatically hops to the channel that offers the clearest reception, without interrupting your conversation
• 1-Way Paging sends a beep to the handset so you can summon a co-worker or family member or locate a missing handset
• 3-number one-touch dialing for instant access to your most important numbers
• Wall mounting of base unit with supplied bracket, compatible with standard wall outlets
• Frequency: 900MHz Band
• High Power Antenna Provides extended range performance with less noise and interference
• Battery: 3.6V Rechargeable NiCad Battery Pack (BP-T31)
• Telephone Cord, Battery Pack, AC Power Adapter, Wall Bracket
• Base: 5 3/8" x 2 3/4" x 10 1/2"Handset: 2 1/8" x 9 3/4" x 2 1/8"



примерная цена - $130
---
АОН   |||  Телефон   |||  Каталог   |||  Главная страница   |||  Карта сайта

E-mail:

Пишем письма